I'm afraid that yet again I've lost a piece of my heart, the bastard this time is South Africa. After seeing tons of pictures on Instagram of my buddy Nathan (since a few years he hibernates in Capetown) I decided the time was right to go there myself.
On the 8th of December, my friend Britt and I landed in Capetown International Airport after a 19h flight. We picked up our little white Chevy and headed to Hermanus which was stop n°1 on our 2100 km road trip. One of the first things I saw, after being focussed on driving on the left side of the road, were a few townships close to the airport. I read a lot about Apartheid but being there and seeing what's still left of it is something else. Now I must admit that during the rest of our trip, we didn't come into contact with any racial conflicts although racism still is a problem in South Africa. In this blogpost I'd like to focus on the all positive aspects I experienced while being there, I don't want to highlight the past, conflicts or politics. There's already enough negativity in this world lately.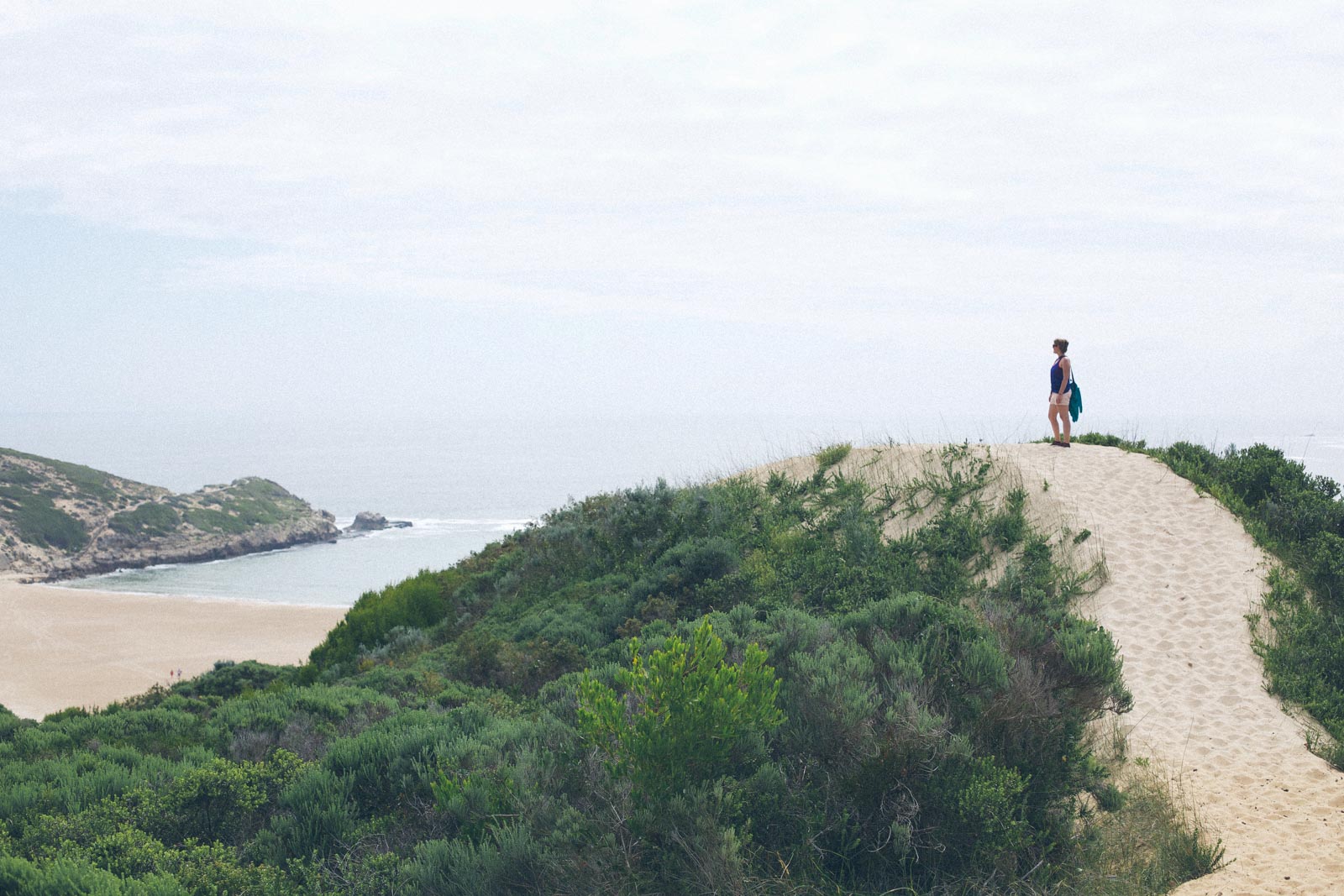 During week one we spent a lot of time in our Chevy, we started in Hermanus and drove all the way to Addo's National park which is around 800 kilometers further. If I have to describe my experiences of the first days, besides the driving part, there are two words that pop into my mind: nature and silence. When living in a city all the time you forget what the words nature and silence actually mean. Even worse, you don't even remember how much you enjoy being surrounded by different shades of green and the sound of birds and crickets.
All the places we've been to the first seven days: Hermanus, Wilderness, Plettenberg Bay, Knysna and Swellendam were perfect in their own way. But one was a bit more special to me (and I think Britt will agree): Umlambo bed & breakfast in Sunland, next to Addo's National Park. A perfect setting located in the middle of nowhere or on an unpaved road as the gps would say. When we arrived we both had a wow experience, that house surrounded by that garden! And that wasn't it, our host Donald really made us feel at home. In the morning we had breakfast with the other guests and at night we stayed up late to talk, eat and drink some good South African wine. Besides the cosy part we also discovered the surroundings.  There was the crazy hike in a huge forest where we got lost (of course), not so funny in that particular moment but we laughed about it afterwards. We also went to Addo's elephant park without seeing one elephant (they went on a hike themselves) but the landscape, zebra's, kudos' and that big turtle made it worth the visit. After three days and two nights we had to leave again which made us a bit sad but there were more exciting things to come.
Week n°2 we headed back to where we actually came from: Capetown. My expectations were very high after all the stories I've heard and pictures I saw but I had no idea on how it would look like  in real life. It's definitely not a typical big city, Capetown is much more diverse than most metropolitans I've ever visited. We went to a lot of places and I couldn't compare one part to another, sometimes it felt like we were in a desert, 5-minutes later in the mountains. And there's so much nature (and with nature I don't mean a park) that sometimes you just feel like being at the countryside.
One of the many positives things of our stay in Capetown: we had a guide, and a good one! My good friend Nathan who's a musician and a dj, stays here every summer (when it's winter in Europe) and he knows the places-to-be. The first day he took us on a huge walk through the different neighborhoods in the city. The pictures above are taken in Bo-Kaap, the spiritual home of the Cape's Muslim community and know for its colorful houses. In the background of the first picture you see Lionshead, a hill that defines the Capetonian landscape together with the Table Mountain. You can go all across the city centre and even further, these two solid guards will always be around.
Spoken of those two solid guards, you can't visit Capetown and not climb the Table Mountain or Lionshead. We chose the second one… a wise decision since my muscles were in pain for 3 days (I'm not really the most sportive person, I have to admit) and Table Mountain is even higher. Anyways, it was a little effort to reach the top but what you get in return is just crazy, that view is one of the most beautiful things I saw in my life.
Also the beaches are worth paying a visit, we went to Camps Bays and Clifton, perfect to relax after a climb. The only thing is: either you have to be a polar bear or a very motivated surfer to get it that ice ice cold water. I think my feet were actually frozen after 2 minutes.
In the entire city of Capetown, Gardens and Woodstock are my two favorite neighborhoods. I like Gardens because of the nice bars, lunch spots and restaurants. If you ever go there, definitely pay a visit to Melissa's in Kloof Street and try one of their delicious cakes, it makes you instantly happier. Woodstock is a bit different and still in full development (don't go there alone by night for a walk) but it has such a young creative energy floating around. There's the Side Street Studio's and the Exchange building where young creatives can rent a space to do their own thing. And you should definitely go to the Old Biscuit Mill, a village in the middle of Woodstock known for its' food market.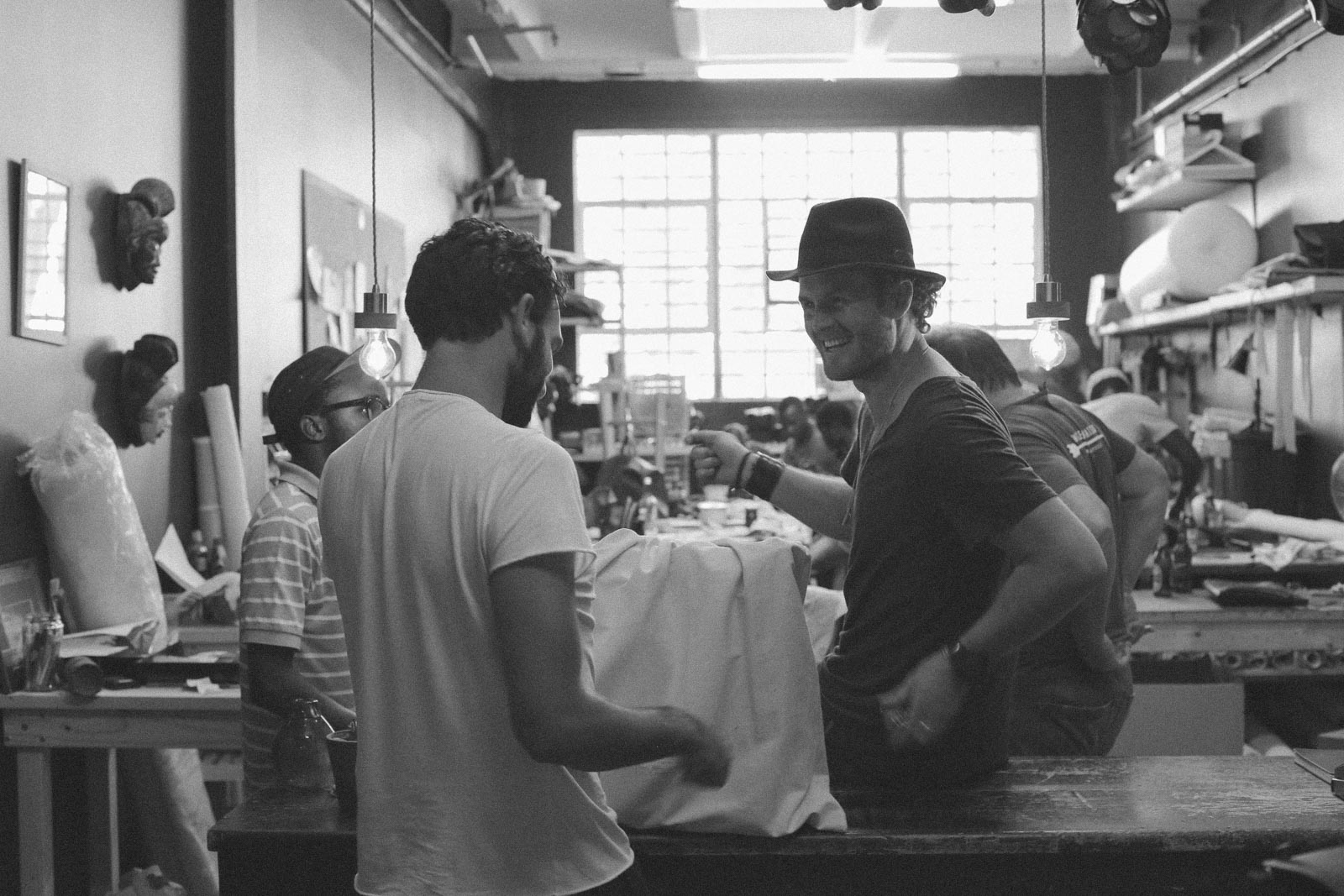 A good example of young creative South Africans are the nice guys from Wolf & Maiden, a small brand specialized in hand-made leather bags and accessories. They rent a little atelier at the Exchange building but are already expanding and just opened a second shop in Waterfront, the more commercial area of Capetown. All the products sold are designed by themselves and made by local craftsmen. What they do really inspired me, using their creativity to help their country moving forward. On a small scale but every little step is one step ahead.
Before ending this post I would like to thank a few people! First of all, Brittie: I really really enjoyed being on holiday with you,  thanks again for being such a good friend and companion. Then of course Nathan and Gavin, thanks buddies for your professional guidance. And last but not least: Gahlia, Rus, Amanda, Stephen and Ulla: thanks for making us feel at home. We truly had a great time, you'll see us again…
For the readers who're still thinking about their next holiday destination, I wouldn't hesitate about South Africa!
All pictures by Britt & me